UP CLOSE: Ealing artist talks urban culture, new series and supporting the next generation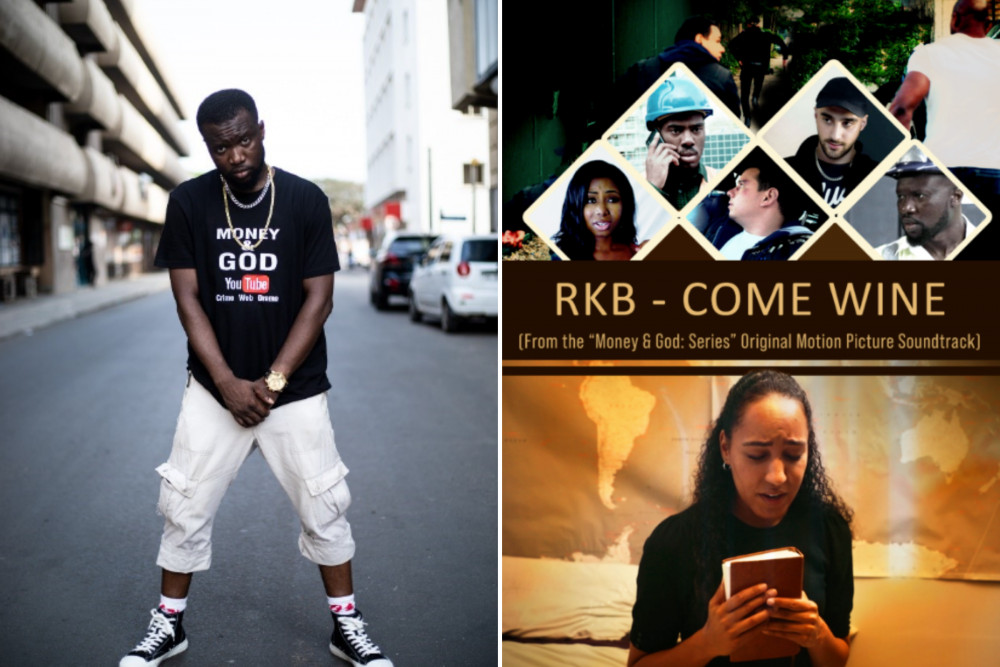 RKB is an Ealing based artist and music producer who has previously produced the song Myths, receiving over 60k views on YouTube (credit: RKB).
Richard Kofi Baffoe, better known as RKB, is making waves in Ealing both as a music artist and a filmmaker.
RKB's creative journey has been marked by a passion for storytelling within his music, which is his take on urban culture, personal struggles, and the Gospel.
His multifaceted career led him to make a song about the Covid vaccine called 'Myths' back in 2021 and more recently, the creation of the 'Money & God: Series,' a project that unveils the dichotomy between life's choices—money and God.
"If we were to study the choices that we make in life carefully, we will reduce them into two things, money, or God," he reflects.
The series birthed the single 'Come Wine,' - an upbeat afro beats track that RKB released as a single to "enhance" the storytelling of the series, with the rest of soundtrack coming out next month.
Reflecting on his early aspirations, RKB said: "When I was younger, I wanted to get into music; the film came later."
This trajectory led to the creation of the 'Money & God Series', shot in the areas of Harrow and Ealing, infusing the narrative with the essence of his upbringing.
For RKB the connection to his roots is pivotal, he said: "I grew up in Harrow and Ealing, so Money & God is based on my lived experience.
"I'm glad the series was filmed between those two locations because it brings back memories of when I was younger."
Beyond his artistic pursuits, RKB actively invests in nurturing talent within the community.
He believes in starting from the ground up, saying: "It was a fantastic project to do as well because I got to work with different actors from Ealing and Harrow.
"Working with people from the community is important because we start from the community.
"If we improve our families, we improve society, and then the community will also get better."
Looking ahead, RKB has ambitious plans, including publishing a book, 'Money & God: Only Two Masters,' and a full-length movie.
When asked about comparisons, he says, "I just do me, to be honest," drawing inspiration from a diverse array of artists such as Jadakiss, Kano, and Dizzee Rascal, but it was exposure to Ghanian artists like Ex Doe and Reggie Rockstone that set off his musical spark.
He said: "When I was growing up back home in Ghana, when rap was roughly starting, so the nineties and two thousands, I used to listen to an artist called Ex Doe and he was probably the first ever artist I liked.
"Then Reggie Rockstone and then came the two thousands, so 50 Cent."
In the spirit of mentorship, RKB offers advice to aspiring filmmakers and musicians.
He said: "It's hard work, but it can be done; you just have to find the time and commit yourself to the vision you have."
Artists usually have specific goals or awards they would like to win, but for RKB it's not just about the accolades.
He explained: "I just want to send a positive message and that already is an achievement to me alone. The rest is just extra."
As December approaches, the anticipation builds not only for the remaining episodes of the 'Money & God: Series,' but also for the release of the accompanying soundtrack.
Watch the recently released music video for his single 'Come Wine' here.
We want to provide Ealing with more and more clickbait-free local news. To do that, we need a loyal newsletter following. Help us survive and sign up for our free weekly newsletter by clicking the link HERE.
New ealing Jobs Section Launched!!
Vacancies updated hourly!!
Click here: ealing jobs