Dr Rupa Huq MP votes for Israel-Hamas ceasefire despite Labour whip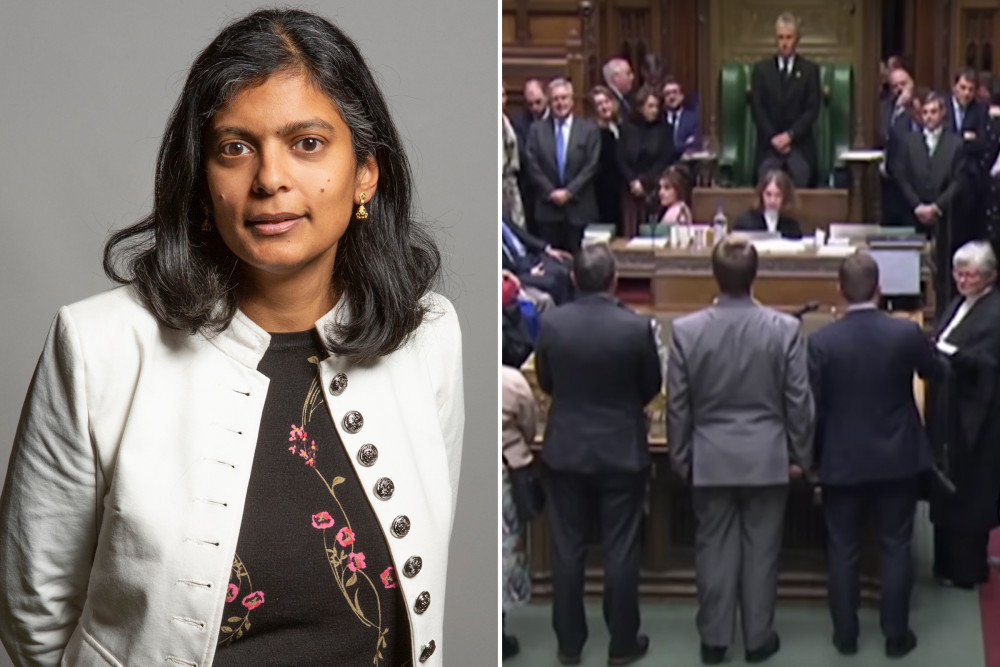 Dr Rupa Huq MP is one of the 56 labour politicians who backed SNP's motion to call for a ceasefire to the Israel-Hamas conflict (credit: Parliament TV & House of Commons).
The Ealing Central & Acton MP voted for the SNP amendment calling on the government to agree to an "immediate ceasefire" between Israel-Hamas.
In the House of Commons yesterday (15 November), the Scottish National Party (SNP) put forward a motion to the house to vote for a ceasefire in Gaza.
The SNP's pro-ceasefire amendment did not pass, with 293 votes against it and 125 for it.
Dr Huq, alongside 55 other Labour party MPs, voted for 'amendment h' which would have seen the government "urgently pressing all parties to agree to an immediate ceasefire" to the Israel-Hamas conflict.
The Ealing Central & Acton MP in the House of Commons yesterday said: "The new Foreign Secretary called Gaza and open-air prison during peacetime, and while we all stood with Israel on October 7, what are the limits of self defence?
"A population forcibly displaced by donkey because there's no fuel, communications blackouts.
"And when will the UK join France, Spain, the UN and all the agencies in advocating for a cessation of hostilities, because we can't go on like this 20 hours a day."
Following the vote Labour party leader, Keir Starmer, said: "At every stage during this crisis, my approach has been driven by the need to respond to both these tragedies.
"To stand by the right to self-defence of any nation which suffers terrorism on this scale, alongside the basic human rights and dignity of innocent Palestinians caught, once again, in the crossfire.
"Alongside leaders around the world, I have called throughout for adherence to international law, for humanitarian pauses to allow access for aid, food, water, utilities and medicine, and have expressed our concerns at the scale of civilian casualties.
"Much more needs to be done in this regard to ease the humanitarian crisis that is unfolding in Gaza."
He added: "I regret that some colleagues felt unable to support the position tonight. But I wanted to be clear about where I stood, and where I will stand.
"Leadership is about doing the right thing. That is the least the public deserves."
Since the vote yesterday, the Labour party has seen 10 labour frontbenchers quit their roles.
Full voting list of SNP's motion to amend the King's Speech can be found here.
We want to provide Ealing with more and more clickbait-free local news. To do that, we need a loyal newsletter following. Help us survive and sign up for our free weekly newsletter by clicking the link HERE.
New ealing Jobs Section Launched!!
Vacancies updated hourly!!
Click here: ealing jobs