Bermondsey group exhibition features portrait of Ealing musician in lockdown by Northfields artist Stella Tooth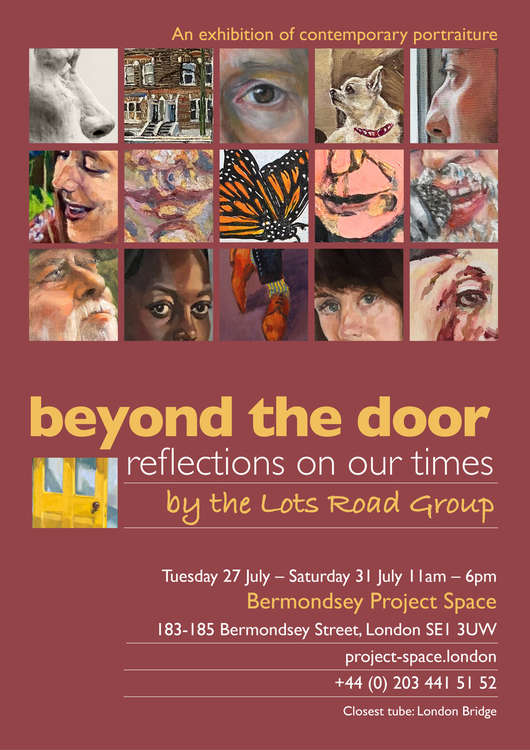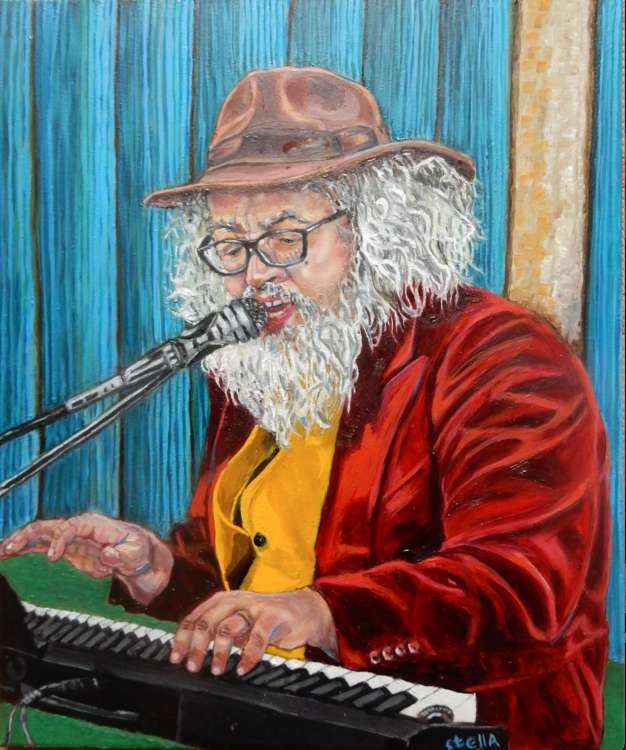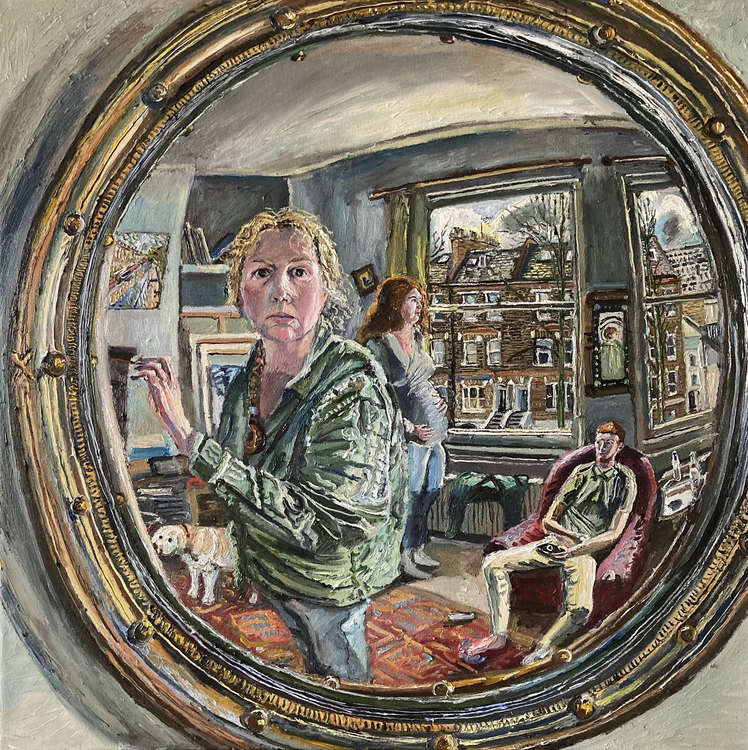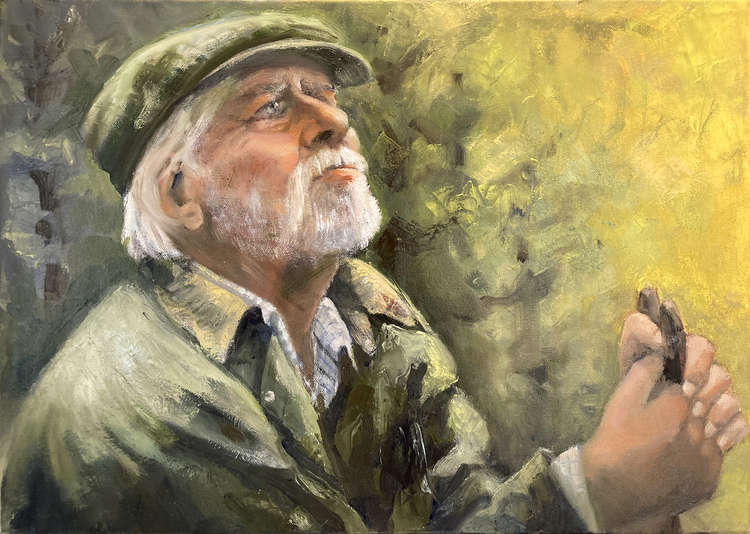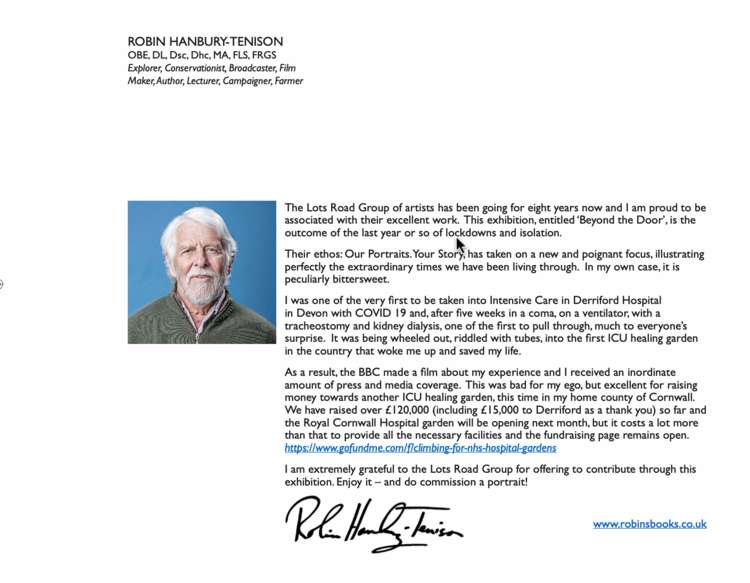 NORTHFIELDS artist and Nub News contributor Stella Tooth is to take part in a group exhibition of portraiture in Bermondsey next week.
'Beyond the door: reflections on our times' by the Lots Road Group of portraitists, of which Stella is a founding member, will be held at the Bermondsey Project Space opposite The White Cube from next Tuesday to Saturday.
It will feature portraits by 15 artists in the group and contemplates life on both sides of the doors that have defined our lives during the last 18 months, both as protection from a hostile outside world and the means of escape from confinement.
The Lots Road Group said: "Our individual worlds have been disrupted in ways unthinkable back in 2019.
"We have been deprived of many things but one thing we have had plenty of is time.
"Strange things happened to our perception of time, something that is noted in many of the narratives that will be contained in our online
catalogue. "With time comes reflection and both are the stock in trade of portrait artists. "Longevity and thoughtfulness are what distinguishes a portrait from a photograph. "During the grim drama of the first wave of COVID our attention was rightly focussed on the NHS and frontline workers. "The current exhibition takes a longer and more intimate perspective. "Our sitters come from all walks of life; they are all people we know and include teachers, out of work creatives, street cleaners, people working from home and inevitably our family members and ourselves." Stella's portrait (pictured), is of local musician Paul Kissaun who she has portrayed in lockdown. In the exhibition catalogue Paul said: "In April 2020 I began playing half hour gigs on my own street. "You know, to cheer things up a bit. "Being a residential area I wanted to limit the playing time to go easy on the inmates. "Invariably the weekly Friday shows got longer. "People started to get dressed up for the one event in the week that wasn't virtual, responsibly dotting themselves apart from each other. "My naturally conservative cul-de-sac was coming out of its bubble for genuine interaction. "People were speaking for the first time to neighbours they'd been avoiding for decades. "Food and wine were exchanged freely. "If you wanted to dance you danced. "If you wanted it all to go away, well it was only once a week. "People wanted to come from other streets but were dutifully unhelped to do so. "I didn't play originals but forgotten memories and unreachable destinations. "Afterwards discussions would run on and in the morning we all went back indoors. "Did I mention we married a couple? "These things have an organic life cycle, even impromptu concert series. "From waryness to joy to expectation to ennui to raking up minor grievances to irritations to community and back to joy. After 15 Fridays I stopped the shows because that's part of the cycle. "But for a couple of months you could feel the gap between the seconds, a gap in which the animals giggled, alienation stumbled and our shy little close looked in the mirror and liked itself." LRG's acclaimed Guest Artist, Melissa Scott-Miller, has spontaneously chosen to paint herself reflected in a mirror together with her family in the small interior in which they spent lockdown together. Everyone has been affected by lockdowns and restrictions; some have weathered it better than others. There are some pluses. Many of us have learned new skills, coping strategies and ways to connect with others. We have entertained ourselves online and met our neighbours at street gigs. We have especially cherished our families and friends. And, as the remarkable COVID survivor Robin Hanbury-Tenison dramatically will attest in the foreword to the LRG catalogue, we have learned a new appreciation of the natural world outside our doors. The Lots Road Group studied portraiture
The Heatherley School Of Fine Art
'Our portrait Your story' sums up our approach to portraiture where, uniquely for a group, we tell the story of our sitters in words as well as picture. In this way we hope to explain the importance and unique qualities of portraiture in the age of photography and the selfie. In his foreword, Robin Hanbury-Tenison said: "The ethos [of the Lots Road Group] Our Portraits. "Your story. "Has taken on a new and poignant focus, illustrating perfectly the extraordinary times we have been living through, in my case, it is peculiarly bittersweet. "I was one of the very first to be taken into Intensive Care in Derriford Hospital in Devon, with a tracheostomy and kidney dialysis, one of the first to pull through, much to everyone's surprise. "It was being wheeled out, riddled with tubes, into the first ICU healing garden in the country that woke me up and saved my life. "As a result, the BBC made a film about my experience and I received an inordinate amount of press and media coverage. "This was bad for my ego but excellent for raising money towards another ICU healing garden, this time in my home county of Cornwall. "We have raised over £120,000 (including £15,000 to Derriford as a thank you) so far and the Royal Cornwall Hospital Garden will be opening next month, but I costs a lot more to provide all the necessary facilities and the fundraising page remains
open
. 'Beyond the door and other recent works' runs at the Bermondsey Project Space from Tuesday, July 27, to Saturday, July 31, from 11am-6pm.