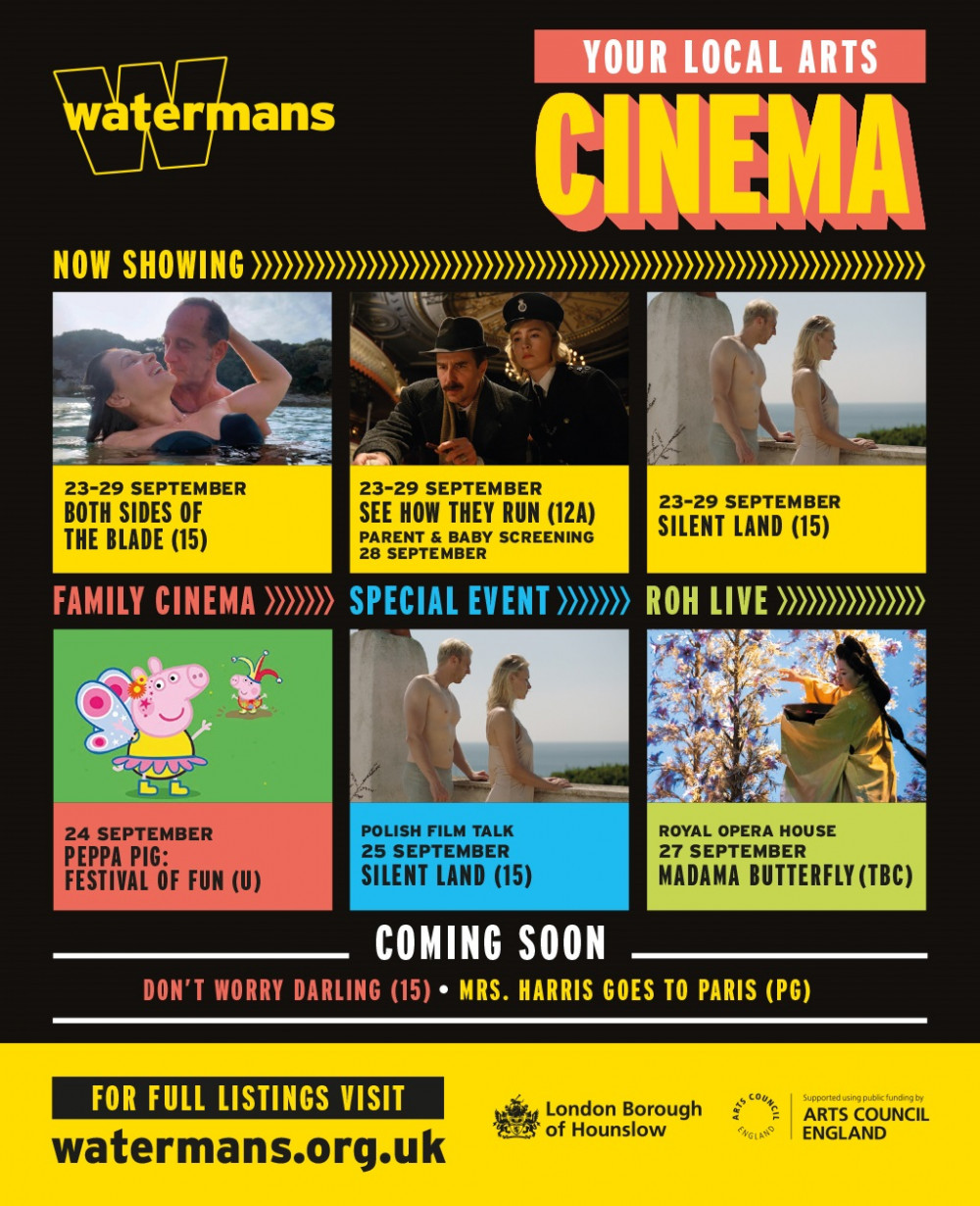 Welcome to our weekly What's on at Watermans, rounding up all the current cinema, theatre and gallery listings on at the local riverside arts centre.
Read on for the not to be missed viewings with a fantastic range to choose from!
Claire Denis' piercing exploration of married life features a trio of powerful performances by Juliette Binoche, Vincent Lindon and Grégoire Colin.
Sara (Binoche) and Jean (Lindon) have been together for ten years. Happy in their relationship, the couple first met when Sara was living with François (Colin), Jean's best friend. Now, years after she last saw him, Sara catches a glimpse of François on the street. He doesn't see her, but shortly after the encounter, he reconnects with Jean. Slowly, François's presence starts to threaten the stability of the couple's world.
Stunningly shot by Eric Gautier, and once again featuring an evocative score by Tindersticks frontman Stuart Staples, Both Sides of the Blade is exactly the kind of film we have come to expect from Denis: uncompromising, thrilling and with an edge of danger.
In the West End of 1950s London, plans for a movie version of a smash-hit play come to an abrupt halt after a pivotal member of the crew is murdered. When world-weary Inspector Stoppard (Sam Rockwell) and eager rookie Constable Stalker (Saoirse Ronan) take on the case, the two find themselves thrown into a puzzling whodunit within the glamorously sordid theatre underground, investigating the mysterious homicide at their own peril.
After arriving at a holiday villa on an Italian island, bourgeois couple Adam (Dobromir Dymecki) and Anna (Agnieszka ulewska) discover that the swimming pool is empty. The migrant worker sent to fix it suffers a deadly poolside accident, setting off a chain of disturbing events that shake the moral foundations of this seemingly-perfect couple. Aesthetically sparse, with an enigmatic plot, Agnieszka Woszczyska's debut feature is an unflinching character study that unfurls the power of denial.
Silent Land debuted at the Toronto International Film Festival, before picking up the FIPRESCI award for the International Competition at the Thessaloniki International Film Festival.
Silent Land is also showing as part of the WATERMANS' POLISH FILM TALKS ON SUNDAY 25 SEPTEMBER AT 1PM.
Get ready for Peppa's biggest celebration yet when the muddiest ever festival comes to cinema!
Little piggies can look forward to 10 brand new episodes including a 2-part festival special, as well as exclusive new interactive entertainment featuring little ones singing and playing along with their favourite onscreen characters! Join the party with Peppa and George in their brand new adventures as they dance in the mud at a children's festival, celebrate Grandpa Pig's birthday at a restaurant for the first time, and take a trip to the cinema to see Super Potato's big movie feature!
The newest release from Peppa Pig: My First Cinema Experience offers a whole hour of snorts and giggles, with songs to singalong to and games to join in with, it's perfect for pre-schoolers and all the family to have fun with Peppa and all her friends!
This screening will be introduced by Michael Brooke, a freelance writer specialising in central/eastern European cinema and a contributor to the book Polish Cinema Now! (2010). Before the screening, he'll also be giving an extensively illustrated talk about the unusual number of outstanding female filmmakers that Poland has produced, from Franciszka Themerson and Wanda Jakubowska in the 1930s and 40s through Agnieszka Holland and Barbara Sass in the 1970s and 80s to many of the more striking Polish directors to have emerged in recent years, whose films cover such diverse topics as full-face transplants, the aftermath of the Rwandan genocide, the author of Communist Poland's first sex manual, and a musical about killer mermaids.
Adam and Anna are wealthy enough to isolate themselves from the messiness of the rest of the world, and expect this to continue when they book a holiday on a bucolic Italian island, even to the point of not taking any action after witnessing a serious accident. But is this detachment really sustainable, either morally, legally or psychologically? With a cool precision that recalls Michelangelo Antonioni and Michael Haneke, Agnieszka Woszczynska's acclaimed feature debut charts the disintegration of an outwardly perfect relationship.
ROH Live 2022: Madama Butterfly
'Love cannot kill: it brings new life.'
On a starlit night in Nagasaki, these are the words spoken by American naval officer Pinkerton to young geisha Cio-Cio-San. But as they both learn, words and promises carelessly spoken can have indelible consequences.
With a score that includes Butterfly's aria, 'Un bel dì, vedremo' ('One fine day') and the 'Humming Chorus', Giacomo Puccini's opera is entrancing and ultimately heart-breaking. Moshe Leiser and Patrice Caurier's exquisite production takes inspiration from 19th-century European images of Japan.