Ealing anti-litter campaigners tackle piles of discarded plastic gloves at Northolt petrol station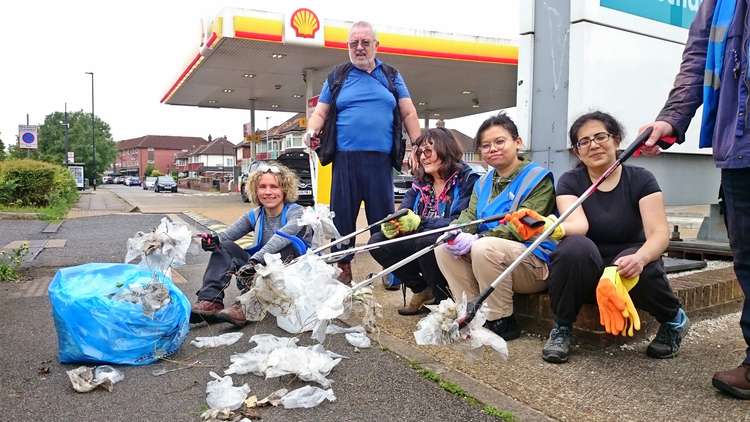 LAGER Can volunteers return plastic gloves to the Shell filling station. Credit Mark Percy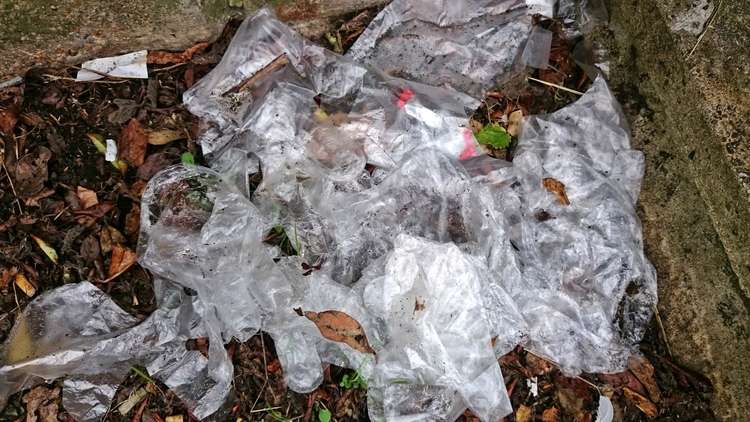 Litter nuisance. Credit Mark Percy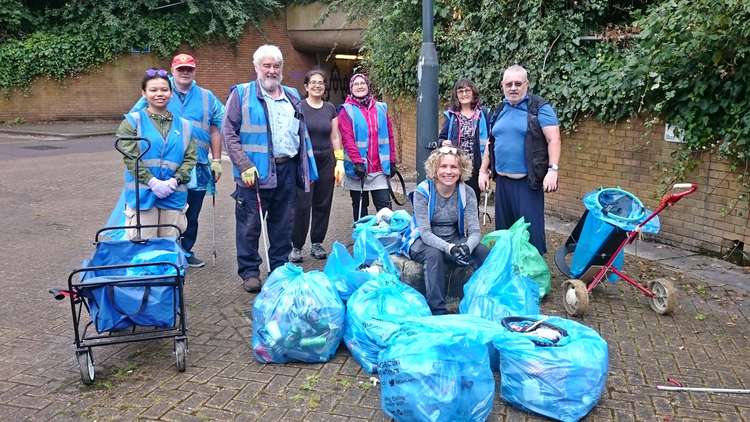 The litter squad collected 17 sacks of rubbish from a single roundabout. Credit Mark Percy
Ealing litter-pickers had their hands full at Northolt Shell petrol station on Saturday collecting thousands of discarded plastic gloves.
An intensive two-hour clean-up operation was led by 10 volunteers from LAGER Can - the Litter Action Group for Ealing Residents - to gather the gloves, which were strewn around the White Hart Roundabout.
The plastic gloves are offered to drivers to protect their hands while filling up, however many end up discarded on the floor and spread by the wind, causing a litter nuisance and wildlife hazard.
LAGER Can volunteers presented a bulging sack of the littered gloves to garage staff to be disposed of.
Their tidying efforts and community work were praised by a sales assistant and security guard, according to the group.
LAGER Can's Cathy Swift said: "The rubbish has been building up for years.
"We alerted Shell management to the problem last December.
"We're calling on them to sweep the forecourt more regularly and put in better fencing to contain the gloves and other litter.
"Despite positive responses from the company, the situation clearly hasn't improved, so we're asking Ealing Council to take enforcement action."
Shell told Ealing Nub News they are currently trialling a new type of glove at some stations, which will be rolled out more widely if proven to reduce the amount of litter produced.
A Shell spokesperson said: "Shell is aware of the issue of the accumulation of disposable gloves around this service station and is working closely with the Retailer to improve waste management systems.
"The team are doing their best to keep the site clean and tidy and are conducting regular litter picks to clear up any gloves that still escape the bins.
"We will continue to look for ways to improve this problem until it is resolved."
LAGER Can saw a surge in membership during the first Covid-19 lockdown and now has more than 1600 volunteers.
Its grime-fighting work across the Ealing Borough has been recognised with a Queens Award for Voluntary Service.
New ealing Jobs Section Launched!!
Vacancies updated hourly!!
Click here: ealing jobs