Airpocalypse Now - Ealing Pollution Levels Soar
By Ealing Friends of the Earth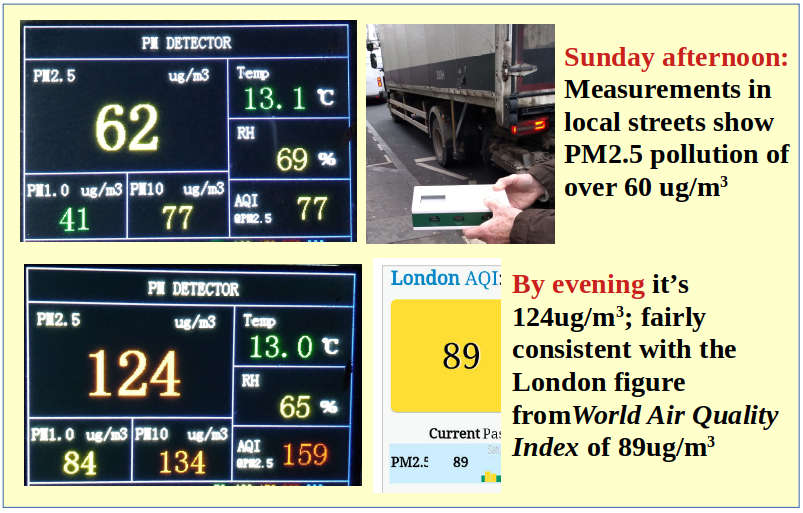 London's soaring PM2.5 Air Pollution as measured by an Ealing resident on Sunday (22nd January), reached ten to twenty times over the WHO guideline of 5ug/m3.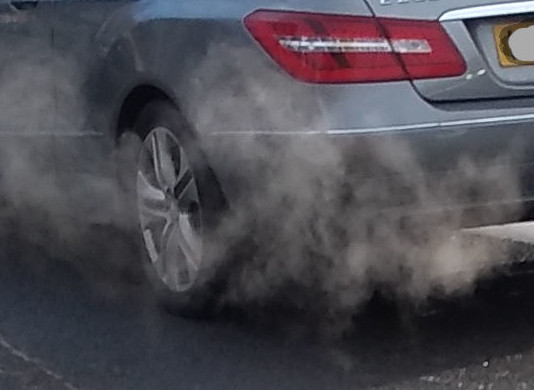 Traffic is the main source, but log fires don't help.
The Mayor of London issued an air pollution alert on Saturday as the number of the toxic fine particles in our air, soared over the weekend. The World Health Organisation (WHO), recently adjusted down the 'safe' limit for these particles (known as PM2.5) from 10ug/m3 (micrograms per cubic metre) to 5. So what were the levels in Ealing?
"One of our supporters decided to find out", say environmental group Ealing Friends of the Earth. "And this is what he told us:"
"I bought a PM2.5 meter some years back after being diagnosed with asthma, which the consultant told me was almost certainly caused by London's bad air".
"When the air felt so bad on Sunday, I stepped outside with the meter and immediately got readings of over 60ug/m3 everywhere I went".
"I checked again in the evening and it was even worse: 124." "I've never seen it so high: it was an 'air-pocalypse'." "Today [Tuesday] it's back down to a more normal level of 22".
Ealing Friends of the Earth say that the readings taken by their supporter are fairly consistent with reports from professional monitoring services, one of which was giving the PM2.5 level as 89ug/m3 on Sunday evening. "It means we've been breathing air 10 or 20 times over the WHO limit", they say. "And even today's 'normal' is more than 4 times over".
Ealing Friends of the Earth explained that the PM2.5 pollution comes mainly from traffic, but "log and coal fires add to the toxic brew". "The particles are so small that they penetrate deep into the body, causing a range of serious diseases." Ealing Friends of the Earth say this is why they believe that it's in the interest of Ealing residents to support plans to expand the ULEZ (Ultra Low Emission Zone): "because even though it's trouble and expense to change a car, it is doable and there's a scrappage scheme". "Sadly there's no scrappage scheme for our hearts or lungs, unless you count the undertaker".
Similarly they are backing local measures by Ealing Council to limit traffic around schools and encourage drivers to switch off engines when stationary. And they advise: "If you are thinking of installing a log fire, please don't think twice, think once, keep your cash, and don't do it!" "Wood smoke may smell nice but is just as bad for our lungs as tobacco smoke and probably worse".
They also point out that there is an Ealing Council consultation on air quality which ends on 30 January 2023. To participate, visit:
https://www.ealing.gov.uk/info/201042/current_consultations/3141/consultation_on_air_quality_strategy_and_air_quality_action_plan
There is also information about air quality on the national UK Friends of the Earth website.