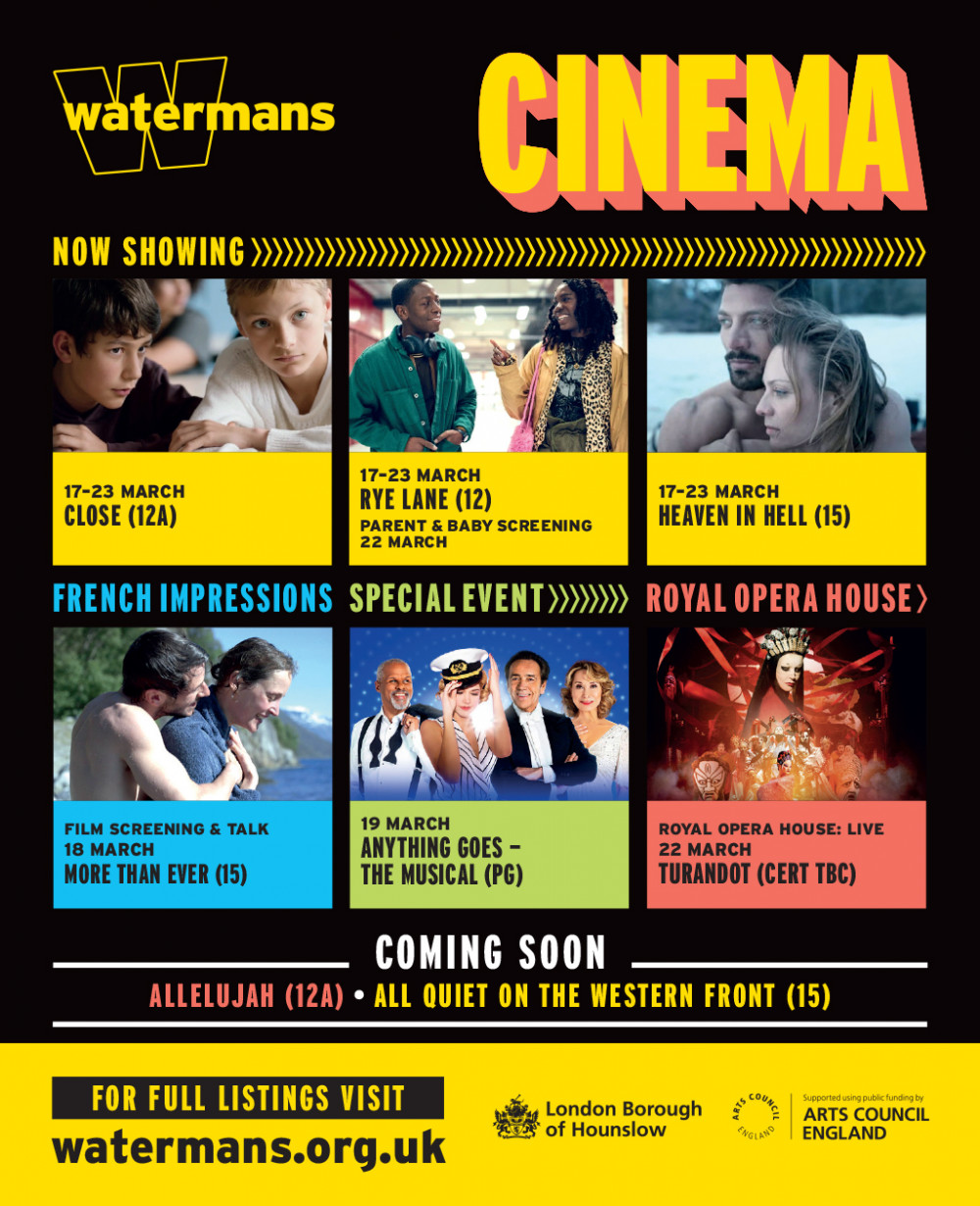 Check out all of the exciting film, performance, and art options on at Watermans. Photo: Watermans.
Watermans is West London's living room. Join us to see great films, live shows and exhibitions and discuss it all at Guru, our unique bar and restaurant serving the best in drinks and Indian dishes.
In the cinema, take advantage of our cinema Winter Warmer offer which runs from Monday – Wednesday every week until 31 March with tickets for any regular screening on those days at just £6.
Catch the new releases including:
Rye Lane (15) Fri 17 - Thu 23 March. See website for dates and times. Director Raine Allen-Miller debut film is a modern-day romantic comedy based in South London about two young people falling in love while finding themselves in the process.
Close (12A) Fri 17- Thu 23 March. (excl. Sun) See website for dates and times. Thirteen-year-olds Léo and Rémi are inseparable; best friends, as close as brothers. However, as they start a new school year, the pressures of burgeoning adolescence challenge their bond with unexpected and far-reaching consequences.
Heaven In Hell (15) Fri 17 - Thu 23 March (excl. Sat, Sun & Wed). See website for dates and times. Is a mature woman allowed to fall madly in love and throw herself into a whirlwind of passion? Can an attractive young man choose an older partner, giving her the tenderness and closeness that she has been missing so much?
Special Event Cinema:
French Impressions: More Than Ever (15) Sat 18 March, Film Talk at 1pm; Film Screening at 2.30pm.
More Than Ever is an intense and touching story of a young woman facing death and torn between hope and despair. Jon Davies, our French film expert will be discussing clips from other French films that have addressed the issues of death using humanity and sometimes even humour.
Turandot (Cert TBC) The Royal Opera House Cinema Live Wed 22 March, 7.15pm. Puccini's score is rich in musical marvels. Antonio Pappano conducts Anna Pirozzi in the title role and Yonghoon Lee as Calaf.
For Children and Families:
Sunday 19 March, 3pm
I Spy With My Little Eye – The Party (2+ years)
Based on the picture book by Steven Lee. Molly and Bingo the puppy are having a birthday party and, best of all, you're invited!
In the gallery see the latest new media exhibition:
The Museum of Dating (VALENTINA PERI)
Until Sunday 23 April 2023, FREE.
Online dating has only recently become a culturally and socially acceptable phenomenon, but the use of technology to match singles has a long history. In the 1960s, computerized dating systems appeared in the Anglo-American world, which worked through questionnaires and customized algorithms. The aim of the exhibition "The Museum of Dating" places the contemporary phenomenon of online dating within a spectrum of older technologies, practices, narratives, cultural and media artifacts.
Friday Nights Live:
The Pepper Pot: Hosted by Andrew Pepper
17 March, 8:30pm
Brace yourselves, Brentford! ANDREW PEPPER is flying for one night only. And you'd better be hungry 'cos he's bringing a cabaret feast. Joining Pepper will be: Grand vaudevillian ADA CAMPE Winner of the 2018 Leicester Square Old Comedian of the Year Competition and in the Big Smoke for 24 hours, Yorkshire Funny Girl, Rachel Dale. Dale will be raiding her silly stable to bring you a manicured handful of barmy, bonkers and frankly baffling characters for your very own delectation. With ALEX MAYNARD on piano, and TRISTAN BUTLER thrashing it out on the drums, get ready to kick off the weekend in style.
Reflections of An Indian Dancer
31 March, 2023, 8.30pm
Balbir Singh with Sooraj Subramaniam
Subramaniam's deeply personal and often poetic reflections on his life journey as a dancer transport the audience into the interior world of the performer, inviting them to explore not only the dancer's but also their own sense of identity.
To find out more details about any or all of these events and to book tickets, visit the website.