Wildlife experts have urged Ealing Council to carry out a habitat survey on Warren Farm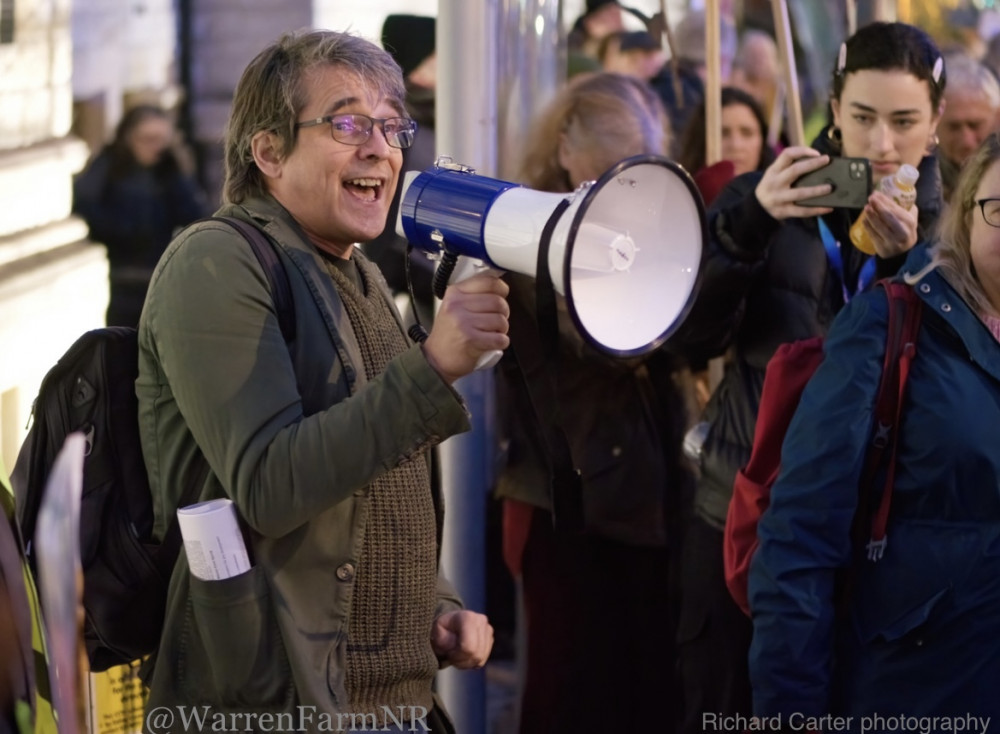 Dr Mark Spencer addresses the crowd at the Warren Farm protest. Photo: Warren Farm Nature Reserve.
Wildlife experts have called on Ealing Council to perform a full habitat survey before proceeding with their plans at Warren Farm as the petition hits 20,000 signatures.
The Warren Farm Nature Reserve campaign have written to Ealing Council Leader Peter Mason to ask him to carry out a Phase One Habitat Survey, as was recommended by Dr Mark A Spencer, of the London Natural History Society, and Dr Sean McCormack, founder of the Ealing Wildlife Group, at the meeting of the Overview and Scrutiny Committee.
Campaigners believe that carrying out this survey is imperative prior to a development partner being selected to help mitigate any environmental damage by the building of a sports facility at the site.
Dr Spencer said: "Ealing Council has a lot of work to do before it can even consider putting together a development proposal.
"It is essential for the council to have a record of what is present on Warren Farm Nature Reserve now, as baseline data, before it goes any further.
"It will need this information before it approaches Natural England. To show the mandatory Biodiversity Net Gain all developments will need after November 2023, will require more extensive surveys.
"So far, the council has been unable to show that it has this information. Determining the current state of Warren Farm's established neutral and acid grassland habitat and the abundance of common, rare and vulnerable species it contains, is essential prior to the commencement of any development proposals.
"It seems somewhat premature to advertise for a Development Partner before carrying out this survey."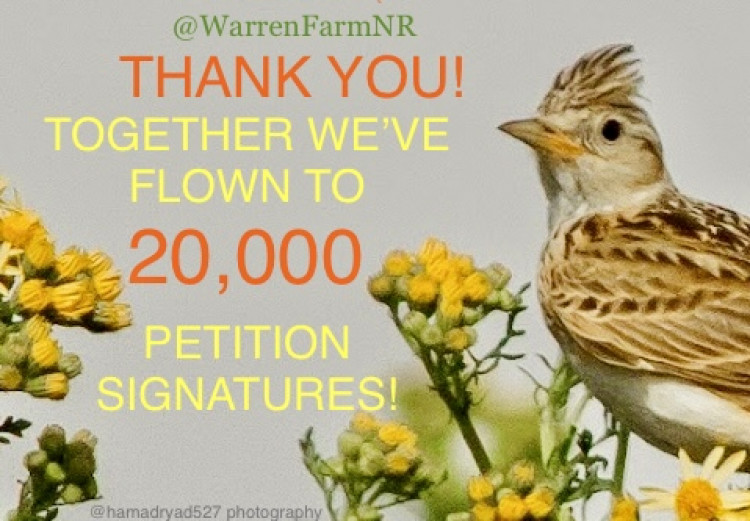 The petition to save Warren Farm has received 20,000 signatures. Photo: Warren Farm Nature Reserve.
The petition to help protect Warren Farm has now reached 20,000 signatures, meaning it has gained over 5,000 signatures since the Ealing Council Cabinet voted through plans to build a sports facility at the site on 25th January.
Brent River and Canal Society Trustee Steven Toft said: "The council's proposal to develop the site appears to run counter to national, GLA and the council's own policies.
"Without a habitat assessment, the council has no idea of the ecological damage this development might do. This is about good governance as much as anything else.
"It seems very risky to fly into a major proposal such as this without getting the full picture. We have therefore offered our wildlife expertise and assistance.
"We strongly urge the council to implement the OSC's recommendation and carry out the independent habitat survey as soon as possible."