St Mary's Perivale: the medieval church broadcasting world class concerts around the world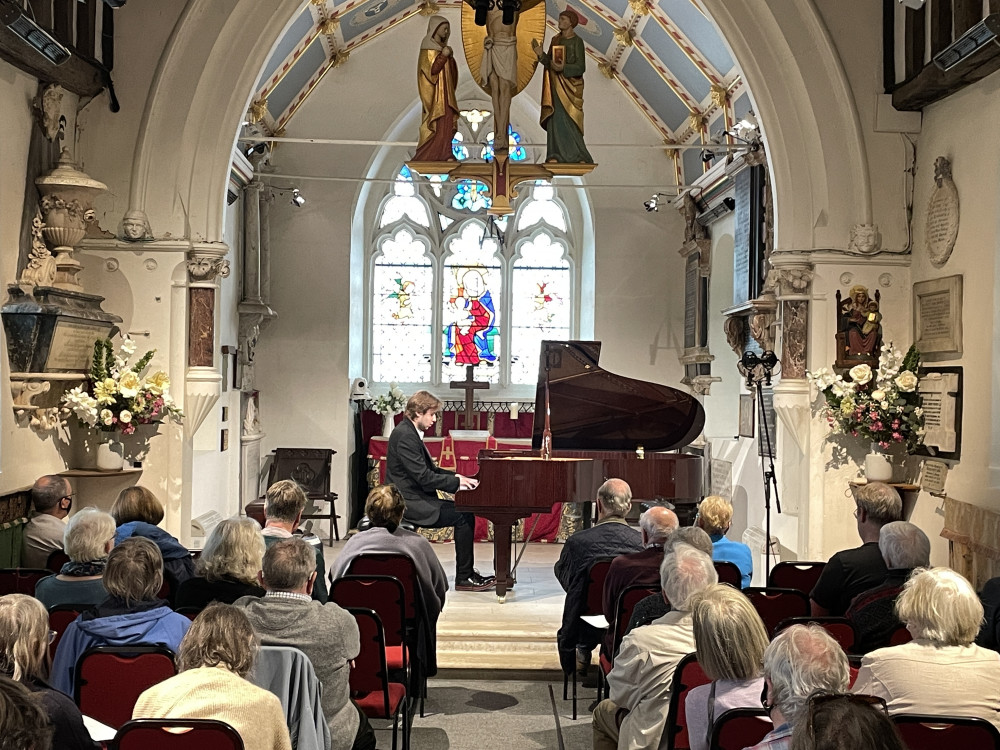 St Mary's Perivale give opportunities to young performers to display their talent to the world. Photo: St Mary's Perivale.
St Mary's Perivale, the medieval church in West London hosting concerts for world class classical music players since 1987 and broadcasting them around the world.
The church gives an unrivalled opportunity to young musicians who have not had much experience performing and gives them a platform to display their talent.
Hugh Mather has been running the concerts since 2005, having previously played at St Mary's Perivale himself, and he is proud to put on some of the best young musicians in the world.
He said: "The venue is small, so we can't put on groups of more than about eight musicians, so it's chamber music and solo recitals and we have a very good piano.
"I suppose we've developed a niche for solo piano recitals and the reason it works so well is that many of the best young musicians in the world come to study in London.
"They come from all over the world to study at the three main conservatories, the Royal Academy of Music, the Royal College of Music, and the Guildhall School of Music and Drama, and many of the cream of musicians from China, Russia, Malaysia, Australia, and throughout Europe come to London to study.
"There's a huge number of amazingly talented young musicians and by young, I mean, 20 to 35, who are amazing players, and they're all trying to develop careers.
"Coming and performing at St. Mary's Perivale is very good practice for them and in addition to the fact that they get to perform in a lovely church with a good piano.
"I have about 150 very good pianists all living around London who want to play and I only have about 70 piano recitals a year and it's quite a problem selecting the people because I have more musicians wanting to play than I can possibly accommodate."
What separate St Mary's Perivale from other venues is the state-of-the-art recording system they use to broadcast their concerts all over the world via the internet.
Mather said: "For a standard concert, we have about 30 or 40 people in the church, hearing the concert, but over the next few days, about three to four times as many will see the performance on YouTube and Vimeo.
"So, it's very good practice for the musicians and a very good way of showing their progress to the wider musical community.
"We leave the recordings up for at least three weeks, so people can see them and they watch from all over the world.
"We've had people in about 60 countries so far, watch them and we broadcast more of these concerts than any other venue in the UK.
"Our video system is professional standard, we have nine HD cameras, and six microphones, and it's of a very high calibre and high standard.
"We started broadcasting the concerts way back in 2018, but at that stage, it was an adjunct to the main concert which was in the church and I didn't really take it too seriously but it was quite a fun project to try.
"Then in March 2020, the pandemic came along and we were very well placed to continue broadcasting at a time when most other people weren't equipped for it.
"We weren't allowed to have an audience, but we could go on and broadcast in concert, so we had 150 concerts over the next 15 months where the musician would play and I would be there with a recording engineer, and people would watch from all over the world."
New ealing Jobs Section Launched!!
Vacancies updated hourly!!
Click here: ealing jobs